HOW TO GROW A FILBERT
The fact that this crop is simply reproduced and cultivated makes it available both for public and hobby gardens and allows one to use low-maintenance soil.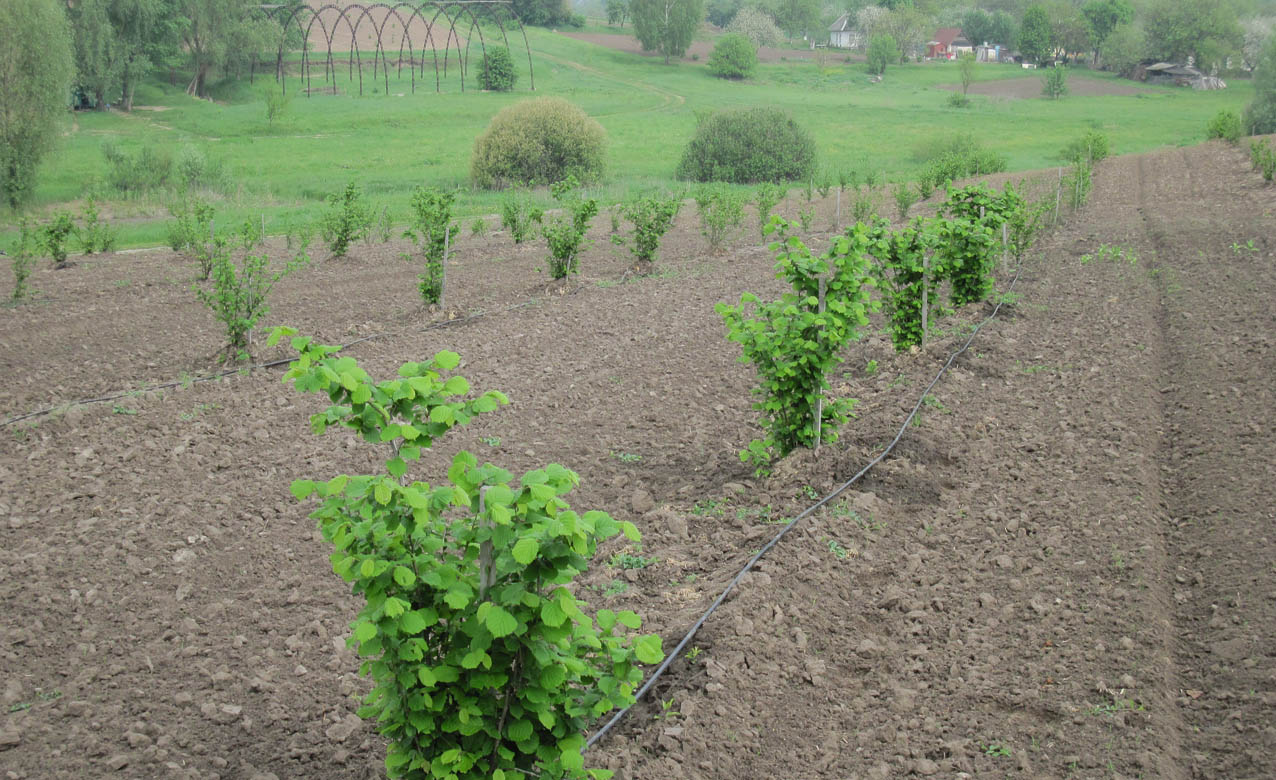 I
In comparison with other fruit-bearing crops, the filbert is not so demanding to its habitat and soil quality, however, only fertile soils with sufficient moisture can guarantee heavy yield.
The filbert can be planted practically in all types of soil, except for dry sandy, boggy and saline.
It grows well on all slopes except for southern ones, for both its pistillate and staminate flowers, prematurely blossoming, become frost-bitten.
Soil for filbert gardens is tilled at the depth of 30-40 cm. Soils with a thin humic layer are tilled at the depth of the humic layer and additionally loosened with a subsoil cultivator at 13-15 cm.
You should bear in mind that deep tillage is aimed at arranging the root system freely, improving access for air and retaining moisture.
For spring planting soil is tilled in autumn and for autumn planting – in spring. In the latter case the soil lies fallow all through the summer that provides moisture accumulation. Overall tillage for filbert gardens is done at flat areas. Band tillage should be practised on steep slopes. The tilled band is to be about 2-3 m wide. Filbert saplings on slopes steeper than 10° should be terraced or planted in holes, if soil is trenched at 50-70 cm.
The filbert absorbing a lot of nutrients from soil, fertilizers must be applied to ensure early fructification and rich harvest of filberts every year.
Manure or compost are the best fertilizers for the filbert. Two-three metric centres of manure can be applied with 0.5 kg of active ingredient of phosphorus and potassium fertilizers. It is especially important to fertilise plots on steep slopes with organic manure. 5-6 kg of manure is applied in a hole before planting a sapling.
PLANTING OF THE FILBERT
The best season to plant the filbert is autumn, about a month before it begins to get cold and soil is frozen. The filbert can be also planted in early spring. Spring planting is to be finished 3-5 days before field work. Saplings are planted in holes 70 cm wide, 70 cm long and 70 cm deep (70×70×70). When planting in spring, holes are dug in autumn, when planting in autumn, holes are dug 1,5-2 months before planting.
Two persons participate in planting. One person holds a sapling, straightening its roots and compressing the soil, while the second one covers the sapling with soil. The root neck should be at the level with soil surface. Saplings with a weak root system are planted 5-6 cm below the root neck for additional roots to be formed.
Immediately after being planted at a permanent place, a sapling is shortened 15-20 cm from soil surface.
MOISTURE FOR THE FILBERT
Planting the filbert without irrigation can yield profit only in warm regions with 600-1000 mm precipitation per year. For the first time filbert saplings are watered immediately after being planted in holes. Autumnal accumulative and two-three vegetative irrigations with 300-350 l of water per sapling can be practised in the following three years. These things are done when the garden is laid out after tillage and soil in the space between rows is always loosened and weedless.
If the garden is laid out after other crops and the space between rows has not been plowed up, getting drier, the number of vegetative irrigations should be increased and the irrigation rate should be raised to 700-1000 l and in heavy bearing to 1500 l per sapling.
It is recommended to irrigate the filbert in the following sequence: 1) in the first half of May, 2) in the first half of June, 3) in the first half of July, 4) in the first half of August and 5) after leaf shedding in October-November.
It is especially important to provide the filbert with moisture in June-July when its generative organs are developed for the following harvest.
The irrigation rate is corrected each time in accordance with precipitation depth, moisture reserve in soil and critical periods of water peak demand. Spring water saturing irrigation is not effective for the filbert, because it begins to blossom and develop earlier than most fruit. Beginning from the fourth-fifth year after planting, the irrigation rate should be doubled and raised to 1,5 m3 per tree at peak efficiency.
The rate per ha is calculated from the number of plants per 1 ha respectively.
Perennial grass can be planted in the space between rows in semimature gardens to yield two-three hay harvests in one season, however, irrigation rate should be increased by 30-60 %.
As moisture excess is detrimental to filbert productivity, the area should be drained well.
FILBERT MAINTENANCE
The filbert is a cross-pollinated plant. Therefore, gardens, laid out in one sort, yield a very poor harvest. In industrial gardens 4-6 inter-pollinated sorts should be planted in 3-4 rows by turns. The soil should have no weeds after laying out the garden. Pans are treated at the depth of 6-8 cm. Industrial plantations are cultivated at the depth of 10 cm immediately after planting.
When there will be weeds or seals, the soil should be recultivated at the depth of 8 cm.
Before winter the space between rows is trenched at the depth of 2 cm in the first two years, in the third year - at 14-16 cm and in subsequent years - at 10-12 cm.
Pans are trenched at the depth of 5-8 cm. In size they should be more than the diameter of a sapling. One should bear in mind that the root system of the filbert is in the top plow layer at the depth of 10-15 cm, whereas trimmed roots 3-5 cm in diameter are not regenerable.
Therefore, the tool, depth and quality of tillage are of special importance, especially for a filbert sapling.
If renewed in time, the filbert bush may live to 150-180 years without reduction in yields.